SOLUTION-01 SS White / Leather
Powered by light and designed with interchangeable straps, SOLUTION-01 fits seamlessly in your everyday activities. It also features a high build quality and exceptional design that will stand out from ordinary daily wear.
Specification
Stainless steel
Diameter 40mm
Thickness 9.7mm
Lug width 20mm
Water resistance 5 atm
Anti-scratching sapphire coated crystal
Genuine leather strap
VS42E japanese solar-powered movement
Sizing guide
Shipping and add-on discount will be calculated at checkout.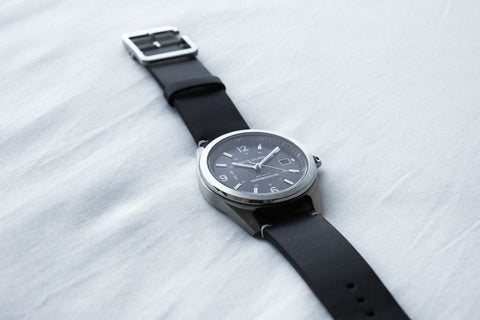 What's a solar movement?
A Solar Watch is a watch driven by converting natural or artificial light into electrical energy. Light energy received by the solar cell, a solar panel unit under the dial, is converted into electrical energy.
In an era when there is a greater emphasis on environmental change, solar watches are more environmentally friendly than their quartz counterparts